When you list with us, we offer you our full service concierge team that will be sure to take care of all of your selling needs. We want you to enjoy the time that you have left in your home and not be stressed out about the process. So, this means we will take care of hiring movers, finding storage, even garage sales and selling personal items for you. If you need a contractor, we will set it up for you. Selling and moving shouldn't be a daunting experience, but one that is enjoyable and exciting.
We provide the Right Exposure & Effective Internet Marketing.....We focus on where the majority of buyers are searching. We have an extensive online network. Once the home hits the MLS agents are huge sources of buyers. We network to agents statewide and nationwide. American Beachside Brokers also utilizes Google AdWords technology. It is the best way to ensure that your listings gets the maximum exposure possible in the online real estate market. As a Zillow Premier Agent, American Beachside Brokers has greater exclusivity and wider reach in the online real estate market by increasing our exposure and promoting our listings without the influence of other agents.
---
Why We're Better Than Traditional Agents
We Offer a Smart Seller Flexible Commission Plans. The Bottom line is We SAVE you Thousands on the Listing & Selling Commission and you still Get Full service. Buyer Commission Included!
Cancel anytime with no cost to our clients. Professional Support, Easy & Free to list. Only Pay When You Sell.
We use the latest Cutting-edge technology. Behavioural targeting is a way of directing our marketing at homeowners who are most likely to be interested in your house.
PROVEN TRACK RECORD
Exceptional LOCAL Knowledge. With 20+ years of experience, and an understanding of current trends, I can help you navigate the market to get the best price.
TRUSTED SERVICE
Over the years, We helped hundreds sell and buy new homes. I'll help answer any questions you may have about your next sale or purchase.
COST-SMART NEGOTIATORS
We never leave money on the table! If it makes sense, we make it happen. We always find a creative way to make escrows close!
PURCHASING POWER
Our relationships allow us to save you money on everything from small repairs to major renovations.
BUYER REBATES
If we represent you in the purchase of any listing, we will rebate part of our selling commission.
FREE PROJECT MANAGEMENT
We will manage small improvement projects at no cost to our clients. You will also have access to our list of contractors if necessary.
CORPORATE RELOCATION
We have access to a list of short-term furnished rentals available for temporary relocation due to remodeling, fast escrow closings, etc..
COMMERCIAL REAL ESTATE
We have a full service commercial real estate division providing solutions to property owners, investors and tenants.
PROPERTY MANAGEMENT
Our staff knows the ins and outs of both the real estate and property management market. We are dedicated to provide great service to our owners and tenants.
A Just-Right Kitchen With Vintage Style
Kitchen at a Glance
Who lives here: Robert and Ronna Kelly and their two kids
Location: Piedmont, California
Size: 145 square feet
That's interesting: Moving four doors and consolidating counter area turned a poorly functioning space into a family's dream kitchen.

When it came time to remodel, revamping the circulation and space in the kitchen was the biggest challenge. "Most 1920s homes have multiple sources of entry and exiting from the room, which kills most of the counter space," says Robert, of Kelly and Ambramson Architects. In this case, four doors and all the foot traffic to them really chopped up the room. "This project increased the efficiency of the space by rearranging the traffic flow to one side of the room, leaving more space for cabinets and counters."

Robert had to relocate the interior stairs, exterior stairs and windows, which ended up being much more work than he had imagined. He also raised the ceiling from 8 feet, 4 inches to 9 feet for a more expansive feel.

See how they changed the floor plan — which changed everything

Cabinetry: custom by Mark Johnson, San Leandro, California; refrigerator: Amana
The oversize brackets on either side of the stove are among Robert's favorite parts about this kitchen. He built it himself using a drywall box around a hood insert and accenting it with trim.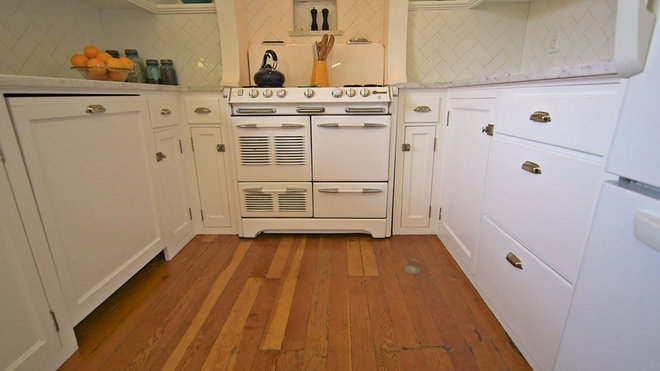 The vintage stove, given to him by a friend who didn't want it, is a huge part of the kitchen's appeal.

Robert tore up the linoleum, revealing beautifully worn wood underneath — and a historic patch made from the top of a tin can — which he kept.
The family opted for a single wide porcelain sink from Kohler. The countertops are 1⅛-inch thick Carrara marble with a honed finish. The wall-mounted kitchen faucet was chosen for its functionality and its utilitarian look.

Robert integrated glass cabinetry into the rest of his custom cabinets. "Glass doors provide a sense of relief as opposed to a solid mass," he says. "We like to display our colorful ceramic bowls and other items in our glass cabinets." Bottom drawers hold Tupperware and the like.

Sink: Kohler; faucet: Chicago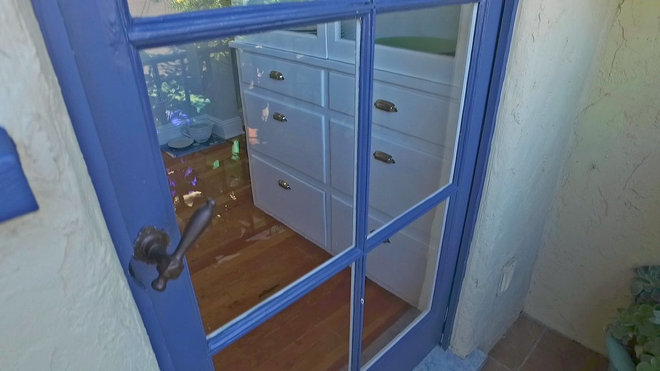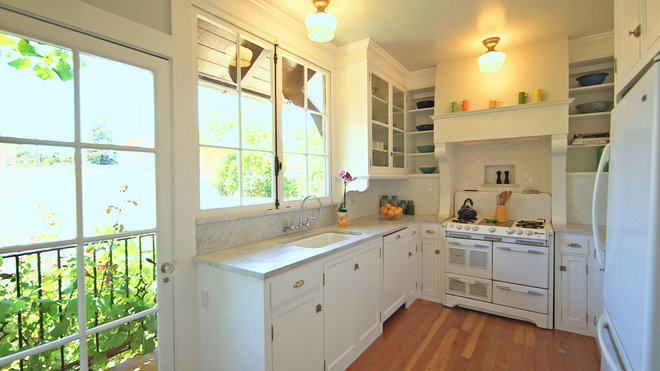 The narrow frame of the exterior redwood door, from Ohmega Salvage, adds to the period look. To meet code, Robert replaced the original wavy glass with wavy tempered glass from Bendheim. The windows came from a house down the street whose owners were throwing them away.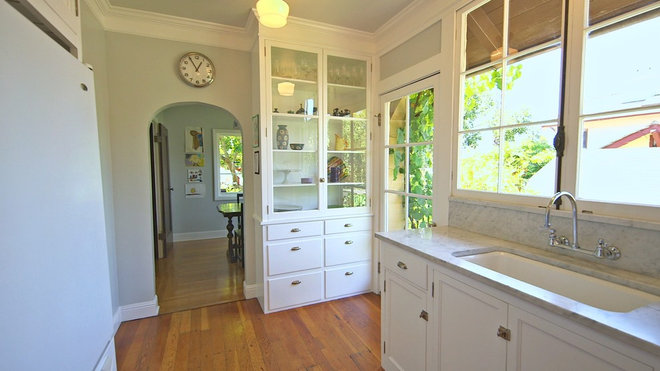 The family considered enlarging the kitchen by taking over the separate dining room, but keeping the wall and its charming arched doorway allowed them to add the china cabinet with all its extra storage.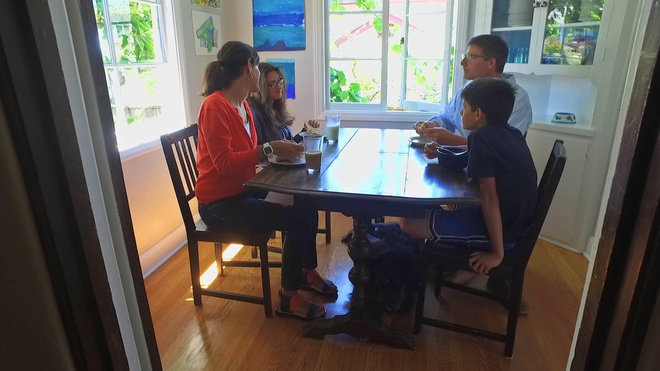 Here, the family enjoys their breakfast nook off the kitchen.

See more on Houzz TV: See how this family got more use out of their kitchen without adding on

Have you renovated a small kitchen? We'd love to see what you did.